TCM INDUSTRIES
We are committed to provide you with the best mechanical components that any industrial company with a leading product needs to remain competitive, agile and on the cutting edge.
For more than 40 years, we have been manufacturing precision mechanical parts, using innovative technologies for complex production for small runs or volume productions.
TCM LIVE
PPM > THIS MONTH
PARTS PER MILLION RETURNED BY CUSTOMERS
TCM LIVE
OTD > THIS MONTH
WHAT CAN WE DO FOR YOU?
We manufacture high-precision mechanical parts to the customer's design, and for use in different industrial sectors, including highly complex one, with certified trackable flows, for small runs and volume production. Browse our technologies or visit the media gallery to get to know us better > learn more
COMPANY QUALITY WITH ISO 9001 AND 3834 CERTIFICATION
Operatives and specialists with lengthy experience, coengineering and robotic equipment ensure traceable solutions, constant over time.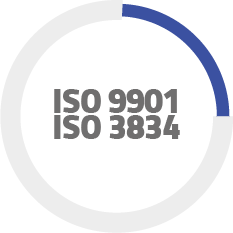 TCM INDUSTRIE
LASTING
VALUE